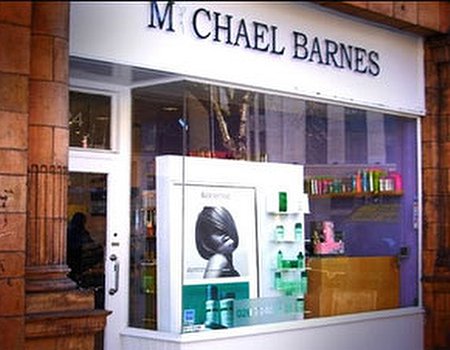 They came, they saw, they looked fabulous. That's right, in a flurry of flashing lights, big sunglasses and very expensive clothes, London Fashion Week has been and gone and it's time for life to get back to normal. With the Fash-pack departing for (comparatively) sunnier climes, you might find yourself missing the glamour and excitement that have emanated from Somerset House these past few days. But don't despair, take a stroll along the Strand into theatreland where you'll find a place where beauty, style and celebrity live all year round. Welcome to Michael Barnes Hairdressing, our salon of the week…
The salon
Located on London's famous Shaftesbury Avenue, Michael Barnes Hairdressing arrived in Covent Garden some 25 years ago, offering customers expert cuts, and relaxed, unpretentious service in a sleek and stylish environment. These days, loyal customers travel for miles to visit Barnes who, with over 34 years experience in the industry, has become one of the most trusted names in the business. Throughout his career he has styled multiple magazine shoots, fashion shows and celebrities (including Keira Knightley and Lily Cole), as well as exhibiting at London Fashion Week and being featured on Britain's Next Top Model. Fierce.
Treatments and facilities
The staff at Michael Barnes pride themselves on their individual approach to styling; offering each client a customised treatment, discussing what they want, advising on what will suit them and coming up with the perfect course of action (or most flattering style).
The salon offers a range of hair services with the Michael Barnes team and, for a little extra, customers can book in for an appointment with the man himself. On the menu guests will find all the services you might expect from a high-end salon, including hair cutting, highlights and blow-drying. You'll also find things like fringe trimming (just £8), an array of hair repair treatments (from instant to permanent), hair extensions and permanent blow-drying.
In line with their individual attitude to styling, the salon also offers customers a few unique packages including a haircut and finish with Moroccan oil and product to take home, or a cut and finish with Mr Barnes himself, which includes wine and a product to take home.
Treat yourself
Fancy a new look? A spot of conditioning? Maybe just a chat with someone who will really listen? Whatever your hair needs, Michael Barnes has the answer. Take a look at the venue page where you can book treatments now.