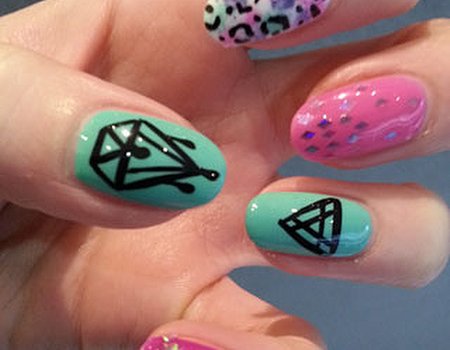 Girls' night, date night, nineties night at Infernos – when the weekend rolls around it brings plenty of opportunities to put on your glad rags and feel great about yourself. Until, that is, you realise you're in a room with someone wearing the same dress, shoes or statement necklace... and she's got a nicer bag. If only you'd thought of a totally original way to set yourself apart, like, for example, a set of beautiful bespoke nails. Hey, we've all been there. That's why most Saturdays you can find us (and a few nail-savvy celebs) at Kitsune Nails at Camiyui Hair and Beauty Salon – home of the most unique manicures in the capital…
The venue
Situated within a hair and beauty salon on London's Great Titchfield Street, Kitsune Nails takes up only a small corner of the city, a short walk from Oxford Circus. If you're expecting the Sex and the City experience be prepared. As nail bars go, this isn't the chicest or shiniest, but it is without a doubt, one of the best we've been to. It's all thanks to salon owner Manami and her natural creativity, practised hand and attention to detail, which prove you don't need diamond nail files or complimentary champagne (or much more than a desk, really) for a truly high-class experience.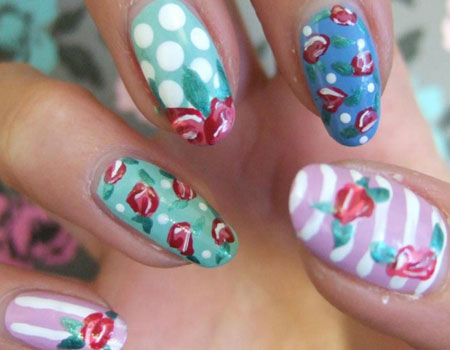 Treatments and facilities
If you've ever spent hours perfecting painstaking nail art – or watching as someone else does it for you – only to find that within a few hours that beautifully intricate design has chipped, you'll be interested to learn that the most popular treatment at Kitsune Nails is Gelish nail art. That's right, we're talking nail art that stays put until you choose to remove it. Although the treatment might take up an hour and a half of your day, with stunning results that last up to three weeks it's no wonder the service has acquired a mini celebrity following (Lily Allen was in there the day before Wahanda's Kate) as well as a good portion of Wahanda towers.
Customers are invited to choose patterns from a vast collection of designs (many of which are viewable on Kitsune's tumblr). If you feel like putting Manami's skills to the test, however, or just have something very specific in mind to go with your lucky dress, Manami allows her customers to bring in designs for her to replicate or reflect on your nails. In fact, she encourages it - no matter how intricate or outlandish, she's up for the challenge.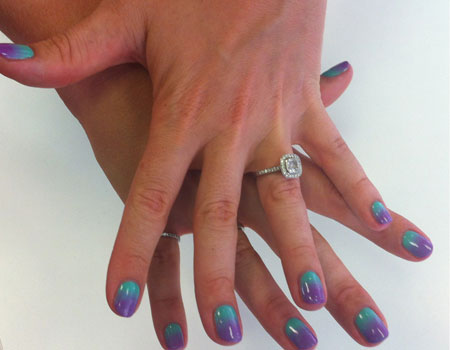 It's not all about nail art though and if you prefer a more classic look for your nails, Kitsune have a huge array of Gelish shades and services at the ready to create stylish, and long lasting manicures and pedicures. Choose from shading, fading, Gelish French, rock star (that's long-lasting glitter), Gelish with gems and the comparatively humble, but forever chic, plain colour.
Treat yourself
Big plans this weekend? Whether it's a big night out or rainy duvet day, a set of unique nails will add a touch of 'je ne sais quoi' to any outfit – yes even pyjamas. Take a look at Kitsune's page where you can book appointments now, including special prices Tuesday to Thursday between two and five o'clock.