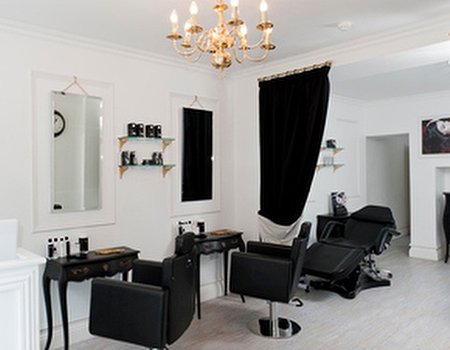 If we told you about an inexpensive, non-invasive treatment that could enhance eyes, lift the brow and pretty much re-shape your face in ten minutes, we imagine you'd want to hear all about this revolutionary new service. Well it's not that revolutionary actually, we're talking about eyebrow shaping. Did you know that over 70% of your facial expressions depend on your eyebrows and that shaping them correctly can take years off you? That's what the eyebrow experts at iBrows etc taught us, and having experienced first hand what they can do with a piece of thread and a pair of brows, we not only believe them, we've voted them salon of the week…
The salon
A stone's throw from London's Selfridges (or five minute walk from Marble Arch), iBrows etc is situated on Seymour Place, a comparatively quiet road of boutique shops, bars and black railings behind busy Oxford Street. The prime location and luxury interiors makes this brow bar, unsurprisingly, a hit with some well-known faces including Caroline Flack (a fan of their HD Brow and lash services), The Saturdays, Sophie Anderton and Alexandra Burke. Of course it's not all location, location, location, fortunately the expert staff at iBrows etc are fully equipped to fulfil your every eyebrow need.
Treatments and facilities
For a salon that focuses on such a specialised area, iBrows etc has an impressive array of services on the menu – there's more to life than plucking you know. Specialists in premium eyebrow and eyelash treatments, all staff are trained by the Nouveau Beauty Group and are highly skilled in a range of treatments from the ancient art of threading (which is available for any part of the face from £7) to, one of the most popular beauty treatments of the year, HD Brows.
High Definition (or HD) Brows, are something of a specialty at iBrows etc. The 45-minute treatment uses seven-steps to transform patchy or over-plucked brows into defined works of art (works of arch?) through a combination of sculpting, threading and tinting.
It's not all about eyebrows though. Well, not quite. The staff at iBrows etc are just as knowledgeable when it comes to eyelashes, which is why they count among their most popular services Nouveau Lashes (state-of-the-art semi-permanent lash extensions), LVL Lash Lifting and, if you're feeling a bit A-list, the combined HD Brows and Nouveau Lashes package.
Treat yourself
Tired of tweezing? Has DIY shaping left you in plucking hell? Leave it to the experts. Perfect for a quick tidy up, complete re-shape or just a spot of celeb spotting, this beautiful brow bar is our kind of place. Take a look at iBrows etc's page where you can book your way to better brows now.