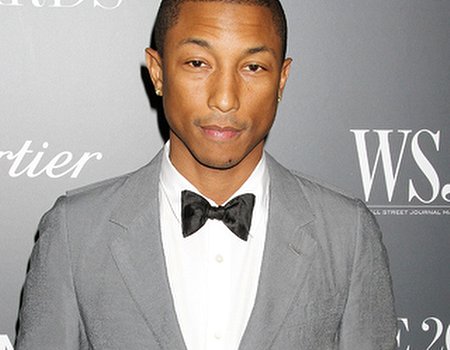 Thanks to a rather controversial single that you may or may not have heard about, this year has seen something of a comeback for N*E*R*D frontman Pharrell Williams. Even more shocking than the topless ladies in that notorious video, however, is the fact that Pharrell (despite not seeming to have aged a day since 2001)is now 40. Even more surprising is the fact he credits his smooth skin to a tip he picked up from Naomi Campbell: washing his face.
Pharrell told Into The Gloss "You have to clean your face. You can't sit around and assume it's going to be ok" adding "I wash my face every day: don't be afraid to wash yours before you go to bed!" Chances are most of the women reading this will respond to this revelation with something along the lines of 'Well d'uh'. Could it be that the men in our lives aren't aware of this basic beauty necessity?
We undertook a quick poll in the office and discovered that for every clueless cleanser in our midst, there's a (manly) moisturising maestro. With male grooming gaining more interest than ever before, here are the favourite guy-friendly products at Wahanda HQ. Over to you boys…
Steve, New Business Executive
Hard Muk Styling Mud by muk (a matte flexible hold hair mud) is the best hair product on the market. I swear by it and have used others but always return to this. £10.95 from www.mukme.com.
Mike UI Development Lead (and resident skincare guru)
I love two products from Boots' No. 7 Beautiful skin. Although not specifically designed for men, the Foaming Cleanser for Normal / Oily Skin (£9) feels nice and cleanses thoroughly without drying out the skin, and the Day Cream for Normal / Oily Skin (£12.50) gives just the right level of moisturisation and is fully absorbed a minute or two after applying. My absolute favourite product, however, is Dermologica's Daily Microfoliant. It's really mild and great for daily use (£40.30 from www.dermalogica.co.uk).
Chris, CCO
I was forced under duress to start moisturising by my wife - moisturiser would just appear in my wash bag. Now I even buy my own. I use L'Oreal Men Expert Vita Lift Anti-Ageing Daily Moisturiser (£13.89). Their Anti-Ageing Eye Roll-On is good too (£11.79) both available www.boots.com. Both really good if you've had a big night out.
Ana, Head of Operations
My gorgeous husband swears by Clinique's range for men. He uses their moisturiser, M lotion (£23), and Anti-fatigue Cooling Eye Gel (£22, Clinique.co.uk). Treatments-wise, he gets his regular haircut and very occasionally goes for a massage, but that's it. I once treated him to a scrub and massage package and the first thing he did when he came out was complain that they'd used a dog's brush on him…
Meral, Content Executive My brother loves Fish Fingers Shape Defining Wax - so much so that when I fly over to visit him in the US he asks me to bring him a few tubs of it! £5.99 from Boots.com.
Alison, Site Editor
My dad was really impressed when I gave him the Braun CoolTec to test:
This shaver's quite unique as it includes a cooling element that cools the face during shaving without the need to resort to gels or other products. It's also very effective in reducing skin burn.
My husband, meanwhile, swears by Fructis surf hair, £3.05 from Boots.com.
Could the men in your life do with a little help in the presentation department? Hey, no one's perfect (except maybe Pharrell). Check out all our boy friendly treatments (including men's facials, men's shaving and men's waxing and give him the not-so-subtle hint.
Image: Broadimage/REX