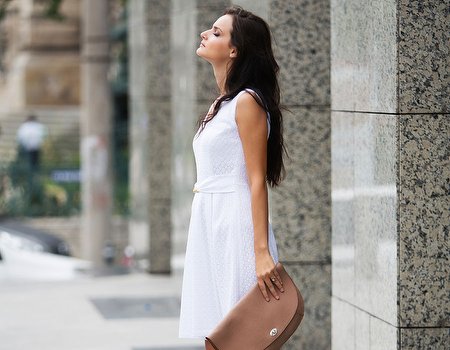 May is known for a number of things: showers, bank holidays, opportunities for bad Star Wars jokes (May the fourth be with you too) and, in recent years, walking. That's right, May is National Walking Month; the 31 days of the year when we're all encouraged to get off our bums and off the bus to take a relaxing, healthy, mood-boosting stroll.
This National Walking Month, Living Streets (the charity behind the event who champion pedestrians and campaign for safer, more attractive streets) is urging 'al desko' diners to use their lunch breaks to get some moderate exercise. The lunch break initiative comes after a survey revealed that nearly half of Britain's office workers eat lunch at their desks at least four times a week.
The survey also revealed that 43% of office workers never leave work and go outside for a recommended walk of 20 minutes or more during the average working day – something that is frowned upon by health professionals and the charity.
To get bums off seats this May, the organisation's annual flagship event aims to - once again - raise awareness of the many benefits of walking, highlighting lunchtime as the perfect opportunity to enjoy a healthy amble.
To do our bit to help the cause, we thought we'd highlight a few of them ourselves. For instance, did you know…
Walking an extra twenty or so minutes every day will burn off around half a stone (7 pounds) of body fat per year. 
The ancient Greek physician Hippocrates described walking as 'man's best medicine', and it seems he was onto something as these days the activity is believed to improve memory, lower risk of stroke, lower risk of heart disease, prevent osteoporosis and even improve your - ahem - love life.
To have a positive effect on our health, we only need walk at a moderate-intensity. The NHS describe a good pace as one that allows you to "talk, but not sing the words to your favourite song."
A brisk walk is one of the best ways to tone up the legs, bum and tum. Regular walking strengthens legs, defining the calves, quads, hamstrings and lifting the glutes. Keeping your head held high will also engage the stomach, helping to tone those abs.
Like all exercise, walking results in the release of endorphins leading to an improvement in mood. A 1999 study published in the Annals of Behavioral Medicine showed that university students who walked had lower stress levels than those who took no exercise at all or those who exercised strenuously.
Living Streets' Chief Executive Tony Armstrong said:
"It's a legal requirement for workers to take a lunch break, but these days we're all so busy we've become the 'al desko' generation. This National Walking Month everyone should take at least a 20 minute break to take a walk in their surroundings, get some fresh air and clear their heads.
"Stress is one of the biggest causes of absence from work and having a 20 minute walk at lunchtime can really help reduce stress levels and improve your mood and general wellbeing.
"It's not just office workers we are urging to go for a lunchtime walk, we want everyone to join us in celebrating the benefits of walking by enjoying the free gift that is going for a walk."
Feeling inspired? Visit www.livingstreets.org.uk/national-walking-month for more information and tips on how to get walking this May.