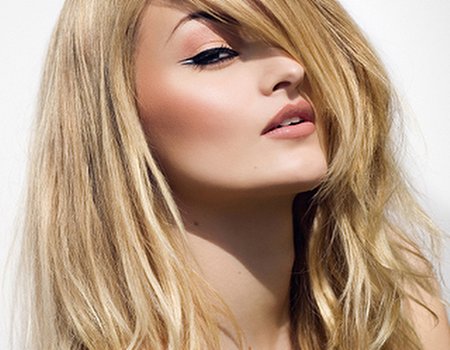 Anyone else coming down with a case of winter hair blues? The cold season is only just getting going, but already wet weather, blustery winds and central heating are taking their toll on our poor hair. With party season upon us this is no time to be worrying about lack-lustre locks. Fortunately the experts at hair supplement company Viviscal have provided us with a few simple food swaps that we can make to bring out our inner Rapunzel...
Protein for growth and strength
Whether it's long, short, straight or curly, your hair is (first and foremost) protein. It therefore makes sense that increasing your protein intake will have a positive effect on hair growth – just as it does on muscle building. An easy way to get more protein is by swapping your morning cereal for a poached egg on toast. This will also prove helpful to anyone starting a pre-Christmas diet, as beginning the day with protein helps increase your body's fat burning metabolism and control your appetite.
B Vitamins for colour
B Vitamins help the body create melanin, which gives hair its colour. In fact, a lack of melanin is what causes hair to turn grey as we age. Keep your colour looking rich by consuming more B vitamins from green vegetables and swap carb-laden sides for things like cabbage, sprouts, spinach and broccoli.
Omega 3 for moisture
Dry hair is caused by a lack of natural oils produced by the body and can lead to flyaways, split ends an itchy, flaky scalp. Upping your consumption of Omega 3 essential fatty acids can help replenish this lost moisture. Get it by swapping meat for oily fish like salmon or mackerel at least twice a week.
Zinc for thickness
We all shed a few hairs daily, but if you feel like you're losing more than normal it could be the sign of a zinc deficiency. Don't worry, this is easily rectified. Simply increase your zinc intake with foods like red meat, shellfish and nuts and enjoy thicker, glossier hair. Viviscal suggest swapping your regular Chinese takeaway for a vegetable based stir fry dish with beef and mushrooms – both of which are great sources of zinc. You see, being healthy doesn't mean you can't still be a little naughty…
Antioxidants for gloss
Good for the body, the immune system and, most importantly, hair. Antioxidants like vitamin A and C help your hair retain moisture and boost the overall condition, enhancing your natural shine. A simple way to get a few more in your system is to swap your daily (or in our case, hourly) cup of tea for antioxidant rich (and fat burning) green tea with a slice of lemon to taste. Then, as the wise Rihanna once said, go forth and shine bright like diamond…