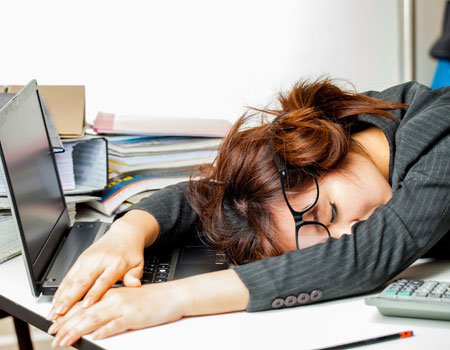 NYE celebrations are hours away, party season is in full swing and if you were out last night too, you might be feeling a little sorry for yourself this morning. Dancing on the tables, misguided mistletoe moments, there are plenty of reasons to want to hide your face come early January, but unless you work in a dark room – which, let's face it, is likely to sound pretty good tomorrow – you don't have a choice. Forget about that regrettable karaoke performance, pull yourself together and stroll in looking fresh as a daisy on your first day back with our hangover hiding food tips and beauty tricks…
Food tips
Breakfast - As the body processes alcohol blood sugar levels drop, causing you to feel hungry – and like a fry up will solve everything. Rich, fatty foods will only put pressure on your digestive system and make you feel worse so rebalance your sugar levels by starting the day with something like toast with honey and a glass of orange juice. This will replenish some of the sodium, potassium and fructose you lost the night before while vitamin C will actually help the liver process alcohol.
Avoid caffeine - For many of us, caffeine is our 'go-to' when we feel tired, particularly 'the morning after'. A dose of caffeine might give you a bit of a boost but the feeling won't last. Tea and coffee are diuretics meaning they actually dehydrate you, which is the last thing you need after waking up gasping for water. Try switching to decaff for the day and remember water is your best friend.
Vegetable soup for the soul - Or any kind of soup really. According to nhs.co.uk, thin broths like Bouillon soup are the best things to eat when you're feeling a little, ahem, delicate. A good source of vitamins and minerals, this vegetable-based broth can help top-up depleted resources and, best of all, it's easy for a fragile stomach to digest.
Beauty tricks
Avoid powder - We imagine a few of you are familiar with the thirst that sometimes wakes you after a particularly festive night out. That's your body telling you you're dehydrated. Look in the mirror and there's a good chance your skin will be giving you a similar message. Quick, apply some moisturiser, drink some water and by all means avoid applying powder that will collect in fine lines and draw attention to dry patches.
Light it up - Our highlighter pen has been a good friend of ours for some time now, but on hung-over mornings it becomes our BFF. Apply under the eyes, in the inner corners of the socket, along the cheekbones and either side of your nose to disguise shadows and reflect light in all the right places - like a beautiful, delicate Christmas decoration. With a sore head.
Get some colour in your cheeks - Nothing says "I'm awake and feeling fresh as a daisy" better than a pair of rosy cheeks. Revive a tired complexion with a dusting of warming blush or bronzer like Nars Orgasm or Hoola by Benefit. Don't be afraid to use slightly more than you would on a normal day, but be careful not to over do it – no matter how well you're faking it you don't want to draw unnecessary attention to yourself today.
For tips on how to avoid getting in this sorry situation in the first place see our guide to preventing festive hangovers and please drink sensibly.