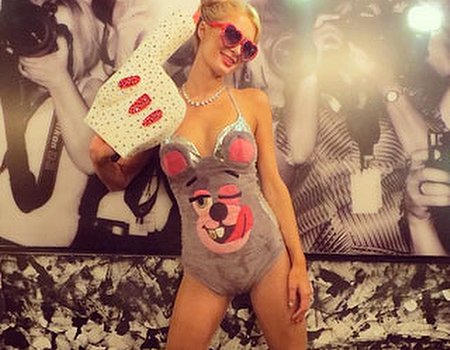 When it comes to Halloween costumes you don't need to be rich and famous to come up with something spooky, but it doesn't hurt. As we prepare for a long night of trick or treating — we mean weekend of partying — we thought we'd take inspiration from a few 'experts' who make a living out of dressing up and showing off. Take a look at our favourite celebrity Halloween looks…
Paris Hilton as Miley Cyrus
After that notorious (and somewhat scary) VMA performance, we're sure there will be a few tongue wagging Miley impersonators out this October 31st. Unfortunately, Paris Hilton has beaten you all to it. It might be far from traditional Halloween attire, but Paris gets bonus point for accuracy, seemingly having hired Miley's actual costume for the occasion. Get the look yourself with a slick of red lipstick, very few clothes and some very high, very nineties 'double buns'.
Sandra Bullock, no really. Image: Beverley News/REX
Sandra Bullock
Is it a ghost? Is it Chris Brown's controversial neck tattoo? No it's Sandra Bullock in a beautiful (but frightening), Mexican Day of the dead costume, and it's now all we can think about costume-wise. We're not going to lie, we don't have a clue where to start with this one. Fortunately fashion and beauty blogger (and all round internet sensation) Michelle Phan does. Fancy replicating this unique look? Watch Michelle's tutorial for inspiration and let us know how you get on.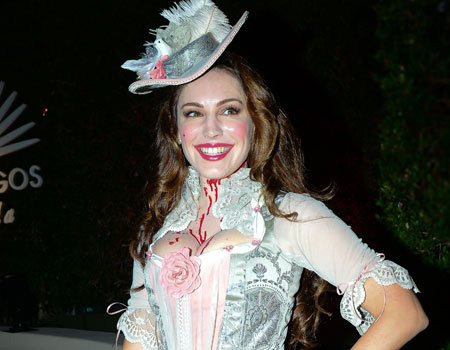 We reckon Marie Antoinette would have approved of that neckline. Image: Beverley News/REX'
Kelly Brook as a guillotine'd ghost
Nothing says Halloween like a bit of extra pale face powder and some well-placed fake blood. Kelly's macabre makeup was the perfect accompaniment to an outfit that otherwise, might be accused of not being especially spooky. If your costume is more glam than ghoulish and you want to up the scare-factor, pair sleek hair and dark lips and nails (very A/W '13) with a good dowsing of pale face powder and lashings of artificial blood. If your costume is verging on the risqué — or you'd like it to — make like Kelly and use a few drops of carefully placed blood to highlight your, ahem, best features.
Happy Halloween everyone!