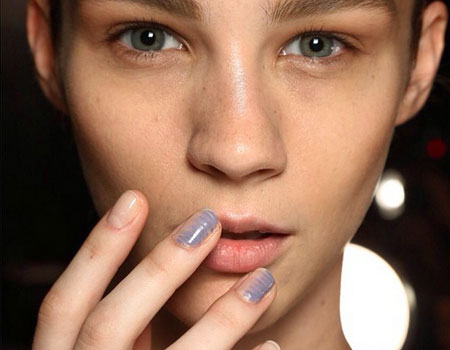 With every Fashion Week, be it in New York, London or Milan, there are always a few looks we love, a few we like but are a little unsure of and a few that are definitely best left on the runway. New York's Spring/Summer 15 shows did not disappoint. We liked, but were slightly unsure of, Tommy Hilfiger's starry face art, thought Rodarte's multiple eyebrow piercings were probably best left on the runway, and loved Prabal Gurung's negative space nail art. In fact, we loved it so much that we asked nail artist extraordinaire Manami Shima (of Kitsune Nails on great Titchfield St) to teach us how to recreate it.
The look was created by nail artist Jin Soon in association with Sally Hansen, who designed three shades (turquoise, a peachy coral and lilac, available March 2015) to compliment the collection. The design features a clear or sheer base with delicate, yet imperfect stripes painted over the top of the middle and ring fingernail. The result is fresh, cool and feminine. It looks simple enough, but where do you start?
Step one
Begin by cleaning and shaping the nails – this is probably the longest part of the process but it's really worth it for a long-lasting effect. Gently push back cuticles, file the nail into your desired shape and smooth the surface with a nail buffer.
Step two
Use a small amount of nail varnish remover on a cotton pad to remove any residue from filing, and wipe oil off the nail surface – this provides the best base for polish and will help your nail art last. Then paint nails with a coat of good quality base, Manami uses China Glaze Strong Adhesion Base coat.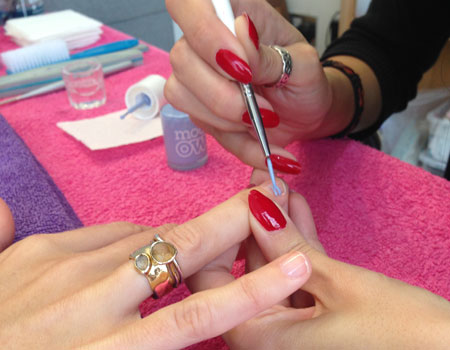 Step three
To create this look, you will need a 'striper' brush and polish (we went for Beth's Blue by Models Own), or nail art pen in your chosen colour. If you're using a brush be sure to clean it before you start by dipping it into a capful of nail polish remover.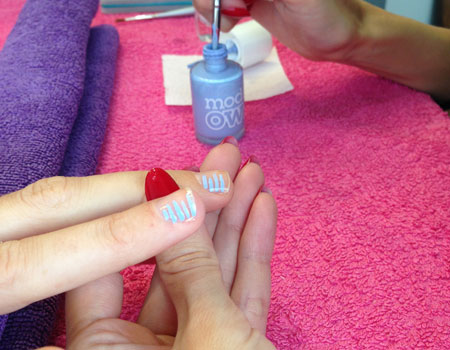 Step four
Using your brush or nail art pen begin drawing your horizontal lines, starting at the outer edge of your nail and stopping half way across. It's a good idea to begin with the middle one to make spacing them out easier. Don't worry if they're a little wobbly, they're not supposed to be straight.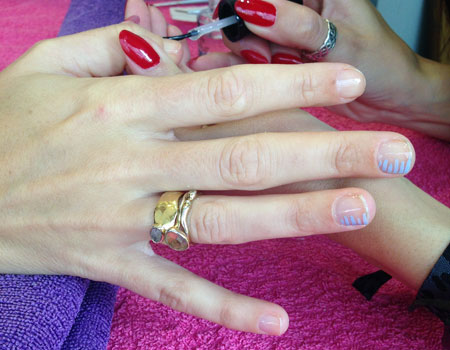 Step five
Give your stripes a minute or two to dry then seal the look with a layer of top coat - Manami always uses Seche Vite Dry Fast Top Coat.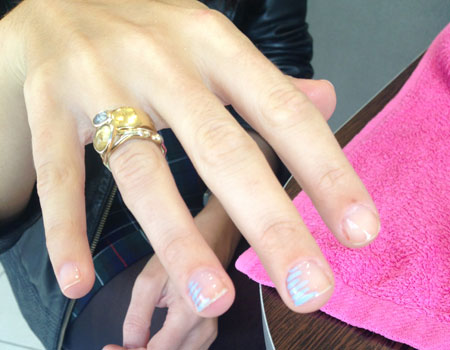 Step six
Leave to dry. To get the Prabal Gurung look you need only paint two of your fingers, but this look could also work on more, maybe using different colours so experiment and have fun.
If you've been inspired by any of the nail art on show in New York and London, but lack the steady hand necessary to replicate it, take a look at Kitsune's page where you can book a gel nail art appointment now.