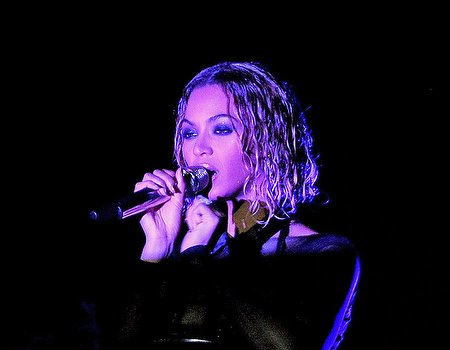 One of the most talked about events of the year, the Grammys never fail to disappoint when it comes to beauty. This year saw classic Hollywood glamour from the likes of Rita Ora and Taylor Swift competing with gorgeous grunge from Katy Perry, newcomer Lorde and Beyoncé.
Mrs Carter's risqué performance with husband Jay Z was headline news, and for good reason. Skimpy leotard, pert derriere and impressive vocals aside, Beyoncé's dramatic hair and makeup were stunning. Somewhere between grungy and flapper (think Gatsby's Daisy Buchanan in a bad mood), Beyoncé's look proved this season's wet look hair doesn't have to be hard to wear. If you're tempted, it's not that hard to achieve either. Here are some simple ways to get the look…
Conditioner
If you have naturally wavy hair, a good leave in conditioner is a great way to mimic Beyoncé's look and give tresses a treat at the same time. Begin by shampooing hair and rough drying. Pour a small amount of leave in conditioner like Bumble and Bumble Leave in (Rinse out) Conditioner into the palms of your hands then carefully work it through your entire hair – roots and all – adding more if needed. Comb the conditioner through your hair, style in your preferred parting using a wide-toothed comb and you're good to go. Leave it in all night and enjoy super conditioned hair when you finally wash it out.
Gel
If wet look gel conjures up images of Ross Gellar in an early episode of Friends, don't panic: hair products have come a long way since the 1990s and spray gel is one of the simplest ways to achieve this very 2014 look. Toni & Guy's Spray Gel for Curls (£6.39, toniandguy.com) is one of the best around. Spray liberally over curled hair, even the roots - although it goes against everything we've ever learned about hair styling. Scrunch it in and comb through using your fingers for an edgy, tousled effect.
Oil
No the world hasn't gone mad, we're not encouraging oily looking hair, we're simply suggesting you try a touch of (carefully applied) Argan Oil to achieve your wet look 'do. Style hair as normal, creating big curls for the desired Beyoncé effect, and work in a small amount of oil like Lee Stafford Argan Oil (£11.99, Boots.com), teasing it through from root to tip using your fingers. If your hair is naturally smooth and sleek and you'd like Beyoncé waves on a more long-term basis consider permanent waves. Like Ross's beloved gel, the 'perm' has come a long way in recent years and can now be used to create long-lasting, beautifully boho waves.
Makeup
To avoid looking like you didn't have time to dry your hair (or worse, wash it) pair wet-look locks with very deliberate-looking makeup. Go for drama like Queen Bey with devilishly dark, super smoky eyes - we love Topshop's Eye Gleam in Noir. Pair with a set of nude, glossy lips, a fierce expression and megastar husband and you're all set. Told you it was easy.
Image: Picturegroup/REX