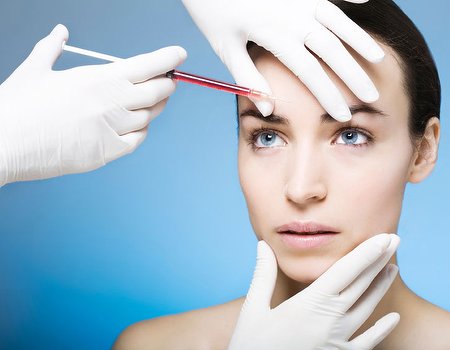 And they say romance is dead…
According to a recent poll by The Good Surgeon Guide (an independent cosmetic surgery website where users can learn about cosmetic surgical procedures, leave reviews and make consultations with professionals), a whopping 78% of women would be 'impressed' if their other half said I love you with a voucher for dermal fillers or other cosmetic procedures this February 14th.
The poll, which was conducted via social media, came after the website noticed an increase in enquiries from men looking for gift inspiration and, in particular, seeking advice on whether or not it is a good idea to respond to their partners' anti-ageing concerns.
After an influx of questions like "Which aesthetic treatments can I give as a Valentine's Day gift without offending?", the review site decided to investigate further. "When we got the first few calls we were amazed that men were even thinking down this line" said Good Surgeon Guide's online help coordinator, Karen Liebe.
The Good Surgeon Guide asked 2,500 female followers questions about what kinds of treatments they deemed appropriate gifts for Valentine's Day and were surprised when two thirds of the women reported they'd be happy with a voucher for a treatment like dermal fillers, while 15% admitted they'd be 'mildly pleased' and only 7% confessed they would be 'slightly offended' or indeed 'not happy'.
Those who were happy with the idea were also asked to suggest the non-surgical treatments they would most like to receive on the most romantic day of the year. The top five results were:
Dermal fillers
'Botox'
Teeth Whitening
Skin Peel
Lip enhancements
The women were also also asked which treatments they would least like to to receive from their loved one and answered:
Botox for Hyperhidrosis
Laser Hair Removal
Skin Tightening
Leg Vein removal
The Good Surgeon Guide does not advocate gifting cosmetic surgery or aesthetic treatments. Despite feeling that these alternatives to chocolates and roses are not a good idea, it acknowledges the fact that, seemingly, more and more people want to give and receive them.   Both Wahanda and The Good Surgeon Guide urge men who do choose to give their Valentine a cosmetic treatment to speak with their partner about it before booking, and to try to understand how the gift may make their partner feel - especially if it's a surprise.
To be honest, we're just happy if we get a card…