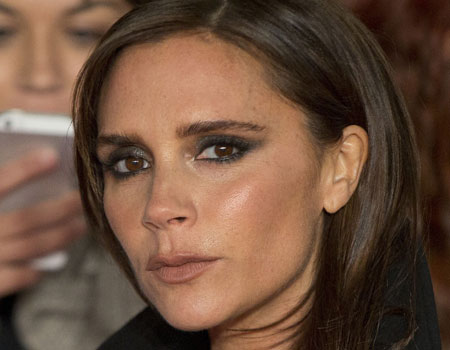 Image: Neil Hall/REX
Last week Victoria Beckham revealed in an interview with Allure magazine that her daily fitness routine includes a four-mile morning run. That's right, on top of being a mother of four, world-renowned designer and full-time celebrity VB manages to do more exercise than a lot of us do in a week, before you've even had your cereal. Inspired to fit more exercise into our own lives – but not masochistic enough to make it a pre-work four mile run - we thought we'd investigate other (less painful) ways to fit more exercise into our day.
Deskercise
In an ideal world it would perfectly acceptable for busy workers to get up in the office and do a few sets of burpees whenever motivation strikes. In real life, however, most of us are too afraid to stand out (let alone work-out) in a work environment. A less embarrassing compromise is to bring a fitness ball to work and use it in place of your regular desk chair. Balancing on a well-inflated ball is not only pretty comfortable, it will also help to tone your core muscles while sitting at your desk.
7 Minute Workout
A seven minute work-out might sound like a suggestion from the lazy girl's guide to exercise, but there is nothing lazy about the gruelling programme that has taken the fitness world by storm this year. The 7 Minute Workout app (which recently became the number one fitness app in over 60 countries) includes twelve high intensity bodyweight exercises. Each voice prompted exercise requires 30 seconds of hard work followed by 10 seconds rest. Results include considerable weight loss and very little impact on your daily routine. Currently free from the App Store
Interval training
If you can't fit in a workout seven days a week don't panic, you're only human. Just make sure that you make the most of the sessions you do manage to fit in. Based on the same principles as the 7 minute workout, interval training requires alternating periods of intense exercise and rest. Adopting this approach has been proven to increase fitness and burn more calories over a short period of time than regular cardio. Bonus, it also mixes things up a bit preventing clock watching.
Walk
Earlier this month we brought you news of PruHealth's 'Walk the Tube' app which provides step-by-step walking routes based on the tube map, revealing how many calories the average person can burn walking from station to station. If you're not based in London and are fortunate enough to avoid the tube on your journey to work, know that walking 10,000 steps (approximately 5 miles over the course of a day) burns roughly 500 calories. Done daily this adds up to an impressive 1lb week. Consider the fact that a survey from last year's Walk to Work Week revealed that 88% of commuters who walk to work claim their journey actually makes them happy and it's a wonder we bother with public transport at all.
Fitness trackers
Wristband fitness trackers make it impossible to get away from how much you are moving and how many calories you are burning. Whether that sounds like your nightmare or just what you need to kick you in the you know what and get you motivated, you have to admit it's pretty cool. The Jawbone, which has proved very popular here at Wahanda Towers, measures the number of steps you take in a day, the distance covered, calories burned (while active and while resting) and even how idle you are, then records your daily results in a handy app. Isn't technology amazing? We're looking forward to the day they invent something that does the hard work for us. Available eustore.jawbone.com, £99.99.