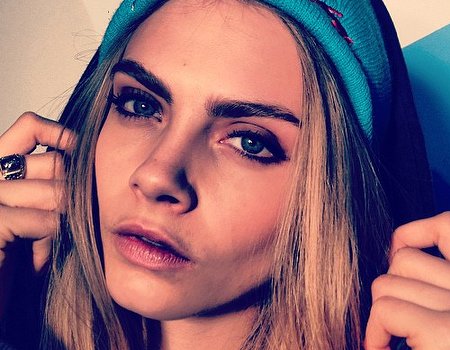 When Cara Delevingne posted a picture of herself and rumoured new girlfriend Michelle Rodriguez hooked up to an IV drip last week, the Twittersphere and Instagralaxy (we made that one up) were sent into overdrive as fans expressed concern for the party loving supermodel.
Panic over everyone, as Cara later tweeted: "Don't worry! It's just a vitamin drip to help with a cold. Thanks for the messages x". Miss Delevingne's extreme cold remedy comes months after an exhausted Rihanna tweeted a similar picture of herself attached to an IV, sparking a trend among the likes of Rosie Huntington-Whiteley and Simon Cowell for, what is now known as, the 'party girl drip' .
We know the A-list have different standards when it comes to health and beauty, but when we feel a cold coming on we normal-types generally find we can struggle through without intravenous help – although we won't say no to a big bowl of soup. So, what exactly do these 'Dracula drips' do? Aren't they a little extreme? And are they really any more effective than a good old Lemsip?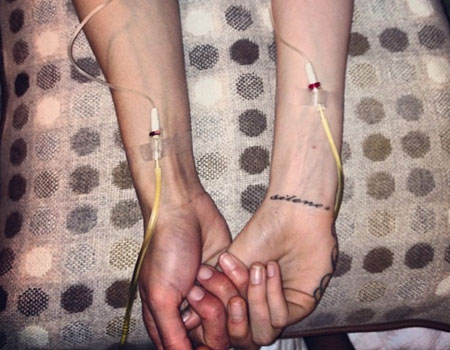 We don't know whether to be more worried about the IV or the state of those nails...
The intravenous vitamin infusions generally contain a cocktail of vitamins B and C, as well as minerals, magnesium and calcium, which help to boost energy levels, support the immune system and even cure hangovers.  Tempted? Well the good news is you can have one delivered direct to your home (or five star hotel suite) and inserted into your arm for 40 minutes for around £400.
No matter how many Instagram followers you have, when you can get 10 honey and ginger Lemsip sachets for £4.15 in Boots is it really worth the money, effort and – above all – needle?
Sharon Morey of Quest Vitamins doesn't think so, particularly when energy boosting vitamin supplements are so readily available – we just need to know what to go for. She explained "B vitamins, including B12, vitamin C and magnesium help to reduce tiredness and fatigue, deficiency of B12 and folic acid in particular can result in tiredness and a lack of energy"
You don't need to be the world's most sought-after model to feel a bit run down from time to time - all that watching TV and coming up with excuses not to go out in the rain has really been taking it out of us recently. Morey suggests us mere mortals look for "a good all round Multi B complex with vitamin C to help give you that A-list boost of energy the painless way." She recommends new Quest Vitamins Multi B Complex, £5.60 from www.questexcellence.com.
It's hard work being glamorous, eh Cara?
Images: Instagram, caradelevingne