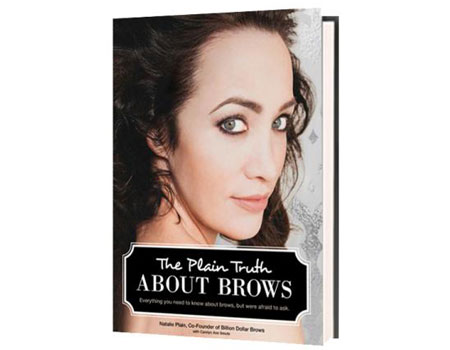 2013 was all about eyebrows – the bigger and bolder the better – and from what we've seen so far, 2014 is set to be the same. If you're not naturally blessed with Elizabeth Taylor arches you might feel that this trend isn't for you, but what if whatever you're lacking in brow you could make up for in tips, tricks and a bit of expert maintenance? Well according to the experts at Billion Dollar Brows, all any of us really need is an instruction manual and a few handy tools. Having already provided the world with everything from foolproof tweezers to regrowth serum, they've now added to their range a comprehensive guide to all things eyebrows: The Plain Truth About Brows.
Who wrote it?
Co-founder and CEO of Billion Dollar Brows, Natalie Plain (hence the title) is a firm believer that "Achieving brow bliss is the simplest, most inexpensive, and most amazingly effective way to change the way you look and feel." After seeing a picture of herself (standing next to Bill Clinton of all people) sporting less than perfect arches she became obsessed with brows and the way shaping them can transform and define the face.
After developing a serum that could help regrow over-plucked eyebrows (the now cult product 'Brow Boost') Billion Dollar Brows was born. New products were added to the line, the first salon was opened in Beverley Hills and the rest, as they say, is history. After years of experience in the brow biz Natalie co-wrote the book with Carolyn Ann Smuts to show other women the transformative power of the eyebrow.
What's it all about?
In a word: eyebrows. More specifically, how to get the perfect eyebrows for your face. The book is a culmination of everything Natalie Plain has learned about eyebrows throughout her career, from why Kim Kardashian's eyebrows might not suit your face (illustrated amazingly with images of what Penelope Cruz would look like with Jessica Alba's eyebrows and vice versa – neither a particularly good look) to how to use a ruler to determine your face shape, finding the best shade for you, how to fix mistakes and even 'manscaping'.
Littered with bits of advice and comforting anecdotes from women (a few of them A-list) who regret plucking away their brows, reading this book is a bit like having a one on one with an eyebrow expert. But not the intimidating kind of expert who wants to punish you for your crimes against tweezing, Natalie Plain really seems to want to educate us. A bit like the Delia Smith of the brow world, her book strips the process of brow transformation right back to the basics including a lengthy (but very interesting) section on 'How to tweeze' – who knew it was so important to cleanse beforehand?
What did we think?
We know eyebrows are important – we learned this when, like many of the women mentioned in the book, we plucked ours away in a moment of 1990's madness – but even we were a little dubious as to whether they were important enough to fill an entire book. As it turns out, there's an awful lot about eyebrows that we didn't know.
We've all experienced envy over someone else's 'perfect' features and when it comes to eyebrows it's no different. However, unlike pert bottoms or shiny hair that we are constantly told we can achieve through hard work or a good shampoo, our eyebrows really are unique and somebody else's – no matter how striking – probably won't suit us. What this book does brilliantly is, not only help you find the right shape for you, but find you an appropriate role model to aspire to e.g. Beyoncé for round faces and Scarlett Johansson for heart-shapes.
The only fault we could mention to do with this book is the fact that the instructions rely on BDB products. However, this is something the writers own up to freely, explaining that 'We aren't simply shamelessly plugging our products; we honestly have faith in them' and even suggesting readers substitute with any other products they know and love.
Our favourite thing about this book, is that when you've finished reading you're provided with a 30 Day Brow Programme designed to regrow and reshape your brows. Divided by brow-type (thin, misshapen or virginal) the plan details four weeks' worth of instructions for caring for, shaping and maintaining your brows no matter what mother nature gave you or what you might have done to them during your teens. A helpful and hopeful programme for us all - Cara Delevingne here we come.
Available from www.billiondollarbrows-uk.com, £35