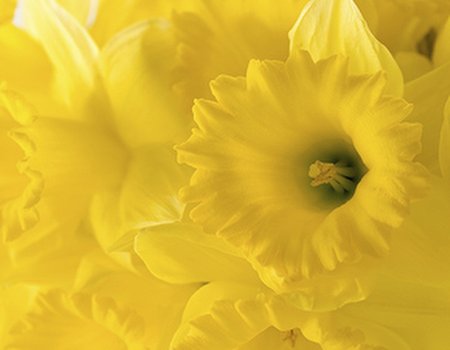 The annual RHS Chelsea Flower Show is upon us once again and here at Wahanda we thought we'd take a moment to stop, smell the roses and think about the wonderful things flowers can do for us. We all know a blooming bouquet can brighten someone's day, but many flowers have hidden talents that can help us relax, boost our health and even improve our appearance - not that we need it. Used for centuries by medical professionals (and more recently beauty therapists) many flowers hold therapeutic properties that can benefit us all so, in this most floral of weeks, behold the healing powers of flowers....
Aromatherapy
Some people might think it's a load of crocus pocus, but aromatherapy dates back to ancient Roman, Greek, Egyptian and Chinese cultures when essential oils from plants and flowers were used to stimulate the senses. Based on the belief that certain smells have an uplifting effect on our mood, these days the treatment is most commonly used to combat the stress of daily life. Most treatments involve a massage using aromatherapy oils tailored specifically to your mood and wellbeing. When rubbed into the skin, the oils are absorbed by the blood stream leaving you feeling completely relaxed from the inside out. Aromatherapy facials are another great way to relax while giving dull skin the essential oils it's missing. Most treatments will begin with a skin analysis before the oils that best meet your skin's needs are massaged into the face emitting soothing or uplifting scents. Earlier this year we were impressed with the results of the Decleor Aroma Mosaic Facial at ND Beauty. We sure were glad-iola we tried it.
Plant stem facial
When skin is looking a little dull, tired or - dare we say it - wrinkled, there's one treatment that can have you looking fresh as a daisy without any nipping, tucking or needling: the Plant Stem Cell Facial. Designed as a non-surgical method of hydrating and rejuvenating the skin, these facials work by taking stem cells from, you guessed it, a plant and applying them to the face. Stem cells, found in living things including plants and humans, are capable of regenerating into new tissue. The idea behind the Stem Cell Facial, therefore, is that the application of extra stem cells will stimulate the production of collagen and peptides in the skin, improving elasticity and appearance. During a treatment stem cells are applied in a unique cream which, when massaged into the skin, kick-starts the body's natural healing process. This regenerates damaged tissue, stimulates dormant cells and generally makes you look younger.
Dr Bach Flower Remedies
Dr Edward Bach was a general practitioner, bacteriologist and pathologist who abandoned conventional medicine feeling it focussed too much on disease and ignored the feelings and personality of a patient. His flower remedies are homeopathic treatments designed to treat patients by targeting negative emotional states that can cause illness. The remedies themselves contain extracts of flowers and plants, diluted in liquid solution and are designed to 'flush out' any negative emotions you might be repressing. There are 38 remedies, which can be prescribed following a one-to-one consultation during which a professional explores your emotional state and makes a diagnosis. The remedies come in small bottles and are designed to be taken under the tongue or diluted in mineral water and drunk up to four times a day. After a few days (or short period of thyme) everything should start to look a little more rosy. In fact, you might feel as though you've turned over a whole new leaf...