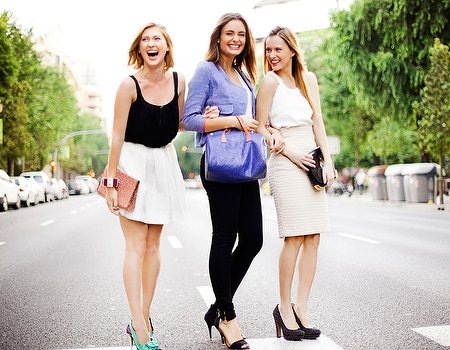 If your commute has been disrupted by 'industrial action' this week there's a good chance you've had to alter your route to include a bus (or five), a bike or a spot of walking. If you've chosen the latter option, then the new app launched by PruHealth might be of interest to you.
"Walk the Tube" provides step-by-step walking routes based on the tube map, helping stranded Londoners get to work by foot. Not missing the opportunity to encourage city dwellers to incorporate this healthy activity into their daily life, the app features an at-a-glance tube map showing the number of steps between stations.
Given that walking 10,000 steps burns roughly 500 calories (which, done on a daily basis adds up to 1lb a week), and that the average person walks between 3,000 and 4,000 steps a day, learning that there are 2438 steps between King's Cross and Farringdon, and 2780 between Victoria and Green Park makes burning a few hundred calories during our commute seem suddenly quite doable. The fact that these fat-busting steps will also get us away from all you other commuters (no offense) and up into the fresh air is an added bonus.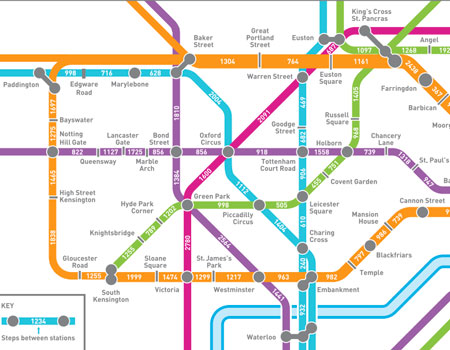 PruHealth's Walk the Tube map
Dr Katie Tryon, head of clinical vitality at PruHealth said: "The health benefits of walking span across several different areas of our wellbeing including physical, mental and social wellbeing. Thirty minutes of brisk walking each day can help reduce the risk of coronary heart disease, maintain a healthy weight, improve self-esteem, reduce symptoms of depression and anxiety as well as being an activity that can be enjoyed on your own or with others."
A survey undertaken as part of last year's Walk to Work Week discovered that commuters who walk the majority of their journey to work are the happiest, with 88% claiming their journey to work actually makes them happy.
If walking 10,000 steps before work risks making you late for your 9 o'clock meeting – and a bit hot and sweaty we imagine – don't worry.  A brisk 30-minute walk (covering around 3,000 steps) everyday will equate to a moderate level of exercise which, according to the NHS, is enough to raise the heart rate and have a positive effect on our health. They advise we walk at a speed at which we are "able to talk, but not sing the words to your favourite song."
The app is available for both iPhone and Android phones and is free to download from the Apple App Store and Google Play Store. For more information see www.pruhealth.co.uk.