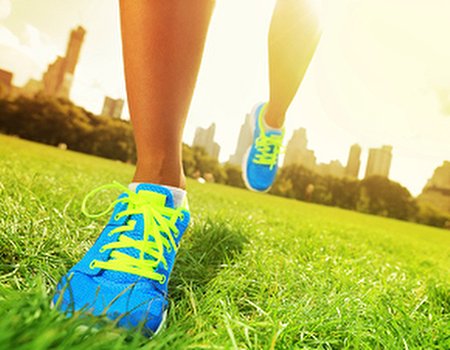 We've got a couple of months (fingers crossed) until the nights start getting longer and that familiar British chill creeps back into the air, which means that this is the perfect time of year to embark on a little outdoor exercise plan. We know what you're thinking: you don't know how, you'll never stick to it and you simply don't have the time. Well, what if you had an encouraging coach in your ear supporting you or an easy way to document your progress and share it with your friends? What if you were being chased by a group of hungry zombies? Yes these days there really is an app for everything, take a look at our top three for running…
Get Running: Couch to 5k
The best app for complete beginners Couch to 5k does exactly what it says on the tin. This nine-week plan is designed to train people who have never run before to complete a 5k (30 minute) run. The plan involves three runs per week, gradually increasing in difficulty to match the runner's growing fitness level. If the idea of 30 minutes straight running puts you off don't worry, the progression is gentle and based on realistic expectations. Week one, for instance, begins by alternating one minute of running with 90 seconds of walking. Best of all each run is programmed to interrupt your music with encouragement from a human voice who lets you know how well you're doing and how long you have left.
Our verdict: Thanks to a busy schedule it took us a little more that nine weeks to complete the course but we did it and couldn't believe the way this app helps to boost fitness without you really realising. An amazing tool for beginners.
MapMyRun
For more advanced runners, or those who have made their way from the couch to 5k (well done you), MapMyRun is an easy way to track your progress without a concrete plan. This app leaves runners to their own devices while tracking their pace, distance, calories burned and time (and if you wish, publishing to your Facebook or Twitter). Less supportive than Couch to 5k, MapMyRun will occasionally interrupt your workout with audio alerts to let you know how long you have been running, how far you've run and your average pace. If you're running to lose weight this app also works as a helpful log for food, diet, and weight. Plus if ever you don't feel like running you can choose to 'map' different activities like hiking, dog walking and road cycling.
Our verdict: Looking at your post-run workout stats and and receiving congratulatory emails from MapMyRun really makes the effort of running feel worthwhile. Being able to show off your progress on Facebook is an extra plus!
Zombies, Run!
Now for something a little different… If fitness isn't what's holding you back from introducing running to your life and you're more worried about getting bored while running for 30 whole minutes (or more), Zombies, Run! might be just what you need. This app, or game rather, challenges runners to 60 'missions' that work alongside your music. Stories unfold between your tracks through a series of 'radio messages' and voice recordings. What really sets this app apart, however, are the occasional warnings ("Zombies 20 metres") and odd bout of genuinely scary growling that interrupts your music as the undead approach, encouraging you to run for your life...or just pick up the pace a little.
Our verdict: Working out hasn't been this much fun since, well... ever. Night-time runners beware, this can get creepy.
All three apps available on the App Store.