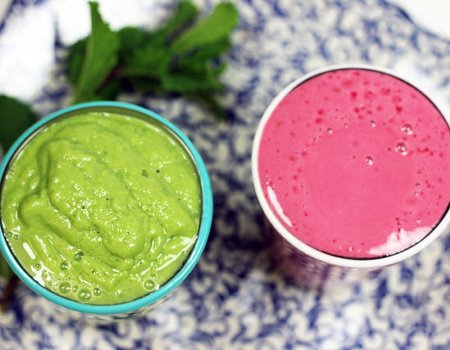 It's official, summer has arrived and it's brought with it all kinds of quick fixes and fad diets to help us all into our bikinis. Since 2014 seems to be, by all (Instagram) accounts, the year of juicing, there's an awful lot of 'advice' floating around on how to juice your way to the perfect beach bod. The problem with a lot of these plans, however, is that they forget one vital part of any diet: eating.
Fortunately The Detox Kitchen, a daily food delivery service designed to take the fuss out of detoxing, has a slightly less punishing approach. Knowing that food-eliminating juice diets that are undertaken for a prolonged period can cause fibre-related problems (not to mention hunger and grumpiness), they suggest trying out a juice cleanse for one day and following it up with a healthy eating plan for the next four days. The 24 hour juice fast will help to kick-start your entire plan, while also allowing your bowel to cleanse and, therefore, absorb more nutrients over the next healthy days. Much more reasonable.
Here are a few of their other tips and recipes:
1. Try to have fresh juice every morning. The juice should be mainly vegetable based with one apple to sweeten. This is a great way to start the day as when you wake your blood sugar levels will be low and the juice will balance them out, preventing sugar cravings throughout the day.


2. Add one tbsp. of wheatgrass or matcha powder to your juice and blitz it together in a blender. This is an additional vitamin and mineral boost that will set you up for the day.


3. Alternate between juicing yourself and buying fresh juice - if you're having to wash that juicer every day you'll soon get sick of the sight of it. There are lots of delis and cafes that do brilliant juices, so let them do the hard work occasionally.
4. Try cold pressed, a method of juicing that ensures no heat is applied during the process. A hydraulic press "squashes" the fruit and veg and, as there is no heat, no nutrients are damaged, compromised or wasted.
5. Drink a juice after eating. By combining the vitamins, nutrients and antioxidants of the juice with food containing fibre, you'll get more benefits than from drinking them alone.
RECIPE : The Detox Kitchen - In the Pink
You will need
Raspberries
Banana
Rice yoghurt
Ginger
Apple juice
Method
Juice two apples and a thumb size piece of ginger
Place half a banana, a handful of raspberries and a tbsp of yoghurt in a blender and add the juice
Blitz for two minutes until completely smooth
Enjoy!
RECIPE : The Detox Kitchen /Green Giant
You will need
Spinach
Kale
Wheatgrass
Banana
Pear
Rice yoghurt
Avocado
Method
Juice one pear
Place one avocado, a handful of spinach, a handful of kale, a tsp wheatgrass powder, 1/4 banana, 1 tbsp rice yoghurt and a tsp. water in a blender then add the pear juice
Blitz for two minutes or until completely smooth
Drink
Feel amazing