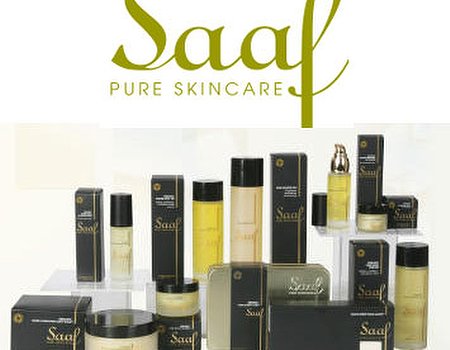 The exciting launch of ecologically and ethically formulated skincare range Saaf Pure Skincare, has brought a new twist to eco-luxe as the first and only range in the world that is both organic and Halal-certified. Saaf uses only rare, organic, cold pressed botanicals and steam distilled organic essential oils with scientifically proven healing and anti-ageing properties.
Saaf Pure Skincare is highly effective, totally organic and utterly ethical. The formulations do not contain irritants, artificial colours and fragrance. The products are also 100% free of alcohol and the organic oils used are chosen purely for their therapeutic, healing and regenerative abilities.
All these factors contributed to all the certifications Saaf has received, such as being certified by the Soil Association, Naturewatch and cruelty free by BUAV. Saaf Pure Skincare has Halal accreditation as well, by employing a policy of no alcohol, no GMOs and no irradiation; as well as being vegetarian and vegan. In development for three years by Dr Hussain-Gambles, a qualified pharmacologist and homeopath, Saaf Pure Skincare draws on this ultimate combination of expertise and experience.
As a skincare specialist with fifteen years experience, Dr Mah's formulations for Saaf Pure Skincare are based on sound science. Being a woman allows her the intimate knowledge and understanding of what women want in a skincare range. Dr Mah says "Preserving the skin is so important to women because it's also about self-preservation".
Dr Mah's 'pure policy' extends to the packaging as well, which is recyclable. Each of the products is packaged in recyclable glass and printed with organic inks with low environmental impact. The chic black cartons can be recycled and even the company's brochure is made from recycled paper and printed with vegetable based ink.
Saaf Pure Skincare is definitely the product of the future, keeping not only the skin free from chemicals, but also contributing to the planet's preservation. It has achieved all the necessary accreditations to be considered one of the greenest products in the skincare market.
Vanitha Daswani, Marketing Director for Agency Global/Saaf Products mentions, "This is a truly groundbreaking range and is the first organic brand with so many accreditations to address a diverse marketplace".
For further details visit www.saafproducts.com or for product information please email Vanitha@saafproducts.com or contact: + 44 (0) 787 200 7247 begin_of_the_skype_highlighting              + 44 (0) 787 200 7247      end_of_the_skype_highlighting