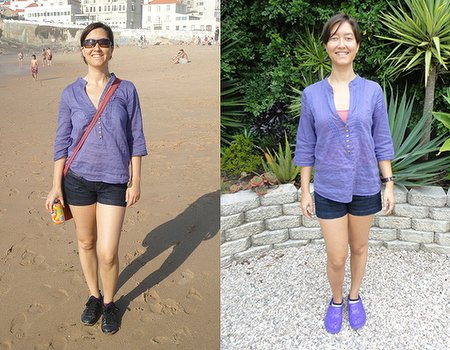 The finish line
Today is election day in Portugal, so I decided to go and fulfill my civic duty on foot. In total, I walked 9.4km this afternoon, meaning I finish my Beach Body Challenge on target. That felt good!!!
In some respects, I can't believe it's been 4 weeks already! Time has flown by. To be honest, in between the pain, I did have lots of fun. So, no matter who wins the challenge tomorrow, I know I am a winner on several fronts:
• I managed to keep the challenge up for the whole 4 weeks, which I have do admit I didn't expect to achieve when we first started it;
• My diet has been definitely more balanced though I didn't cut any food groups other than completely avoiding sugar during week 1;
• I have exercised even more than I set out to do and I know I will keep it up going forward;
• Via this challenge I have experienced other forms of exercise that I was not willing to try before;
• I can see and feel the benefits of my walking and exercise routine, though the scales will have the last say tomorrow morning - not looking forward to that...
What have I learnt from this challenge? I've learnt that you can ALWAYS teach an old dog new tricks, though it takes a bit longer to get them as you grow older. I've also learnt that implementing an exercise routine within a busy lifestyle is not impossible. It is actually quite easy, the main ingredients to this are self discipline and a willingness to change old patterns.
My husband suggested a before and after photo, so here it goes. Spot the differences if you can!
I have decided that today does not constitute an ending. My journey will continue from this point onwards and might even share it with you all.